An exploration of Sir Robert Menzies' role in the Maralinga nuclear tests has won young Biruk Kahsay from St Monica's Catholic Primary School in Footscray,
Melbourne, the Menzies special category prize in the National History Challenge.
Coming from an Ethiopian background, Biruk had a lot to learn about Australia's history and chose to focus on the Maralinga bombings in South Australia
between 1956 and 1963 as part of the special category of the History Challenge, which focuses on Sir Robert's legacy as prime minister.
The national theme for the competition in 2016 was "Triumph or Tragedy". His outstanding research led him to develop a project called 'Atomic Dust – a
tragic decision by Robert Menzies', about the seven nuclear tests conducted by the British and sanctioned by the Australian government.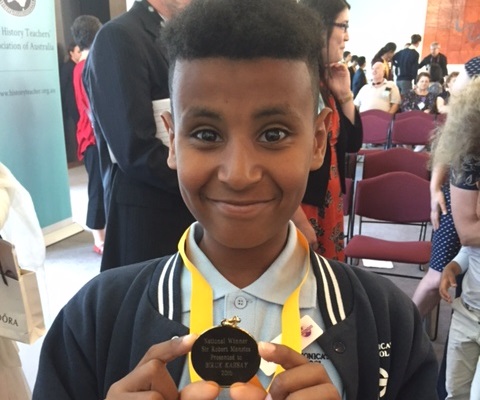 Biruk was presented
with his award at Parliament House Canberra by Menzies Foundation CEO, Sarah Hardy. He attended the awards with his proud family, school principal
and teacher and was congratulated by the Minister for Education, Senator Simon Birmingham.
The Menzies Foundation sponsors the special category 'Robert Menzies and today's Australia' to help school children learn about the former prime minister
and the significant changes which occurred in Australia under his 18 years of leadership.
The judges wrote "Biruk has researched his topic well and presented it imaginatively in text and images from a number of sources. He has connected emotionally
with the topic and written clearly about the issue."
Last year's winner was Queenslander Angus Murray.
The 2017 National History Challenge theme is Making a Better World? The Challenge is a research-based competition open to primary
and secondary school students. Find out more about the competition and how to enter here.
For a comprehensive look at the life and times of Sir Robert Menzies, the Menzies Virtual Museum is an
invaluable resource.