"My Aboriginal identity is me and I work hard to make sure it is something significant in my life, so everyone knows that I am proud of my heritage."
Menzies Indigenous Mentoring Fellow, Michelle Kerrin, is working hard to making her mark during her Indigenous
Studies degree at Melbourne University and as a mentor with the Melbourne Indigenous Transition School (MITS)
in Richmond.
Michelle has just been in Queensland attending and speaking at the Race, Whiteness and Indigeneity conference and received a prize for an essay
she wrote entitled 'Reading re-presentation via a racial literacy framework'.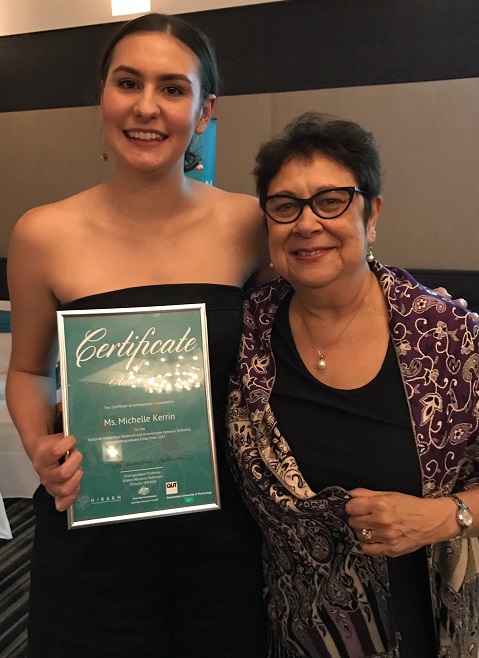 The
National Indigenous Research and Knowledges Network (NIRAKN) ran the conference and essay competition.
Her next stop is NAISA 2017, an international conference in Vancouver, Canada, later this month.
NAISA (National American and Indigenous Studies Association) is the international and interdisciplinary professional organisation for Indigenous Studies.
Speakers and attendees come from all over the world and the University of Melbourne's Lilly Brown, from the Graduate School of Education, will be mentoring
Michelle throughout the week.
While Michelle is excelling academically, her focus on culture is never far from her mind and the recent Reconciliation Week activities gave her time to
reflect and talk to others about culture, identity, survival and strength.
"Reconciliation week is about celebrating our Aboriginal and Torres Strait Islander leaders, those who fought and continue to fight for our rights and
freedom," Michelle said.
"It is about our non-Indigenous communities making space for our voices and listening to our stories of survival and strength. We must all learn of our
history and its truths because we are all a part of it; the good, the bad and the ugly. This is the only way we can move forward and we must do so
for the futures of our young people, we must fight for them."
Michelle also took time to deliver a speech at Fintona Girls School in Melbourne's south east. As part of her message, she shared with the students; "My
Aboriginal identity is me and I work hard to make sure it is something significant in my life, so everyone knows that I am proud of my heritage. It
is my goal to provide the right education to people of all ages so our cultures and identities continue to thrive."
Michelle also spent time with the students at MITS during Reconciliation Week, including a trip to the MCG for the annual Dreamtime Game of Australian
football, between Richmond and Essendon.
The Sir Robert Menzies Indigenous Mentoring Fellowship is a partnership between the Menzies Foundation and MITS. The Fellowship helps
one young Indigenous leader provide mentoring, peer support, and cultural connection to MITS students on a regular basis throughout the school year,
whilst undertaking their own study. The Fellowship is valued at $20,000 for one year, with leadership and development opportunities for the Fellow
greatly encouraged.
Photo: Michelle is standing with Distinguished Professor Aileen Moreton-Robinson, Director of NIRAKN, who Michelle quotes in her essay. Distinguished Professor Moreton-Robinson is a Goenpul woman from Minjerribah (Stradbroke Island), Quandamooka First Nation (Moreton Bay) in Queensland. She is Dean of Indigenous Research and Engagement at the Queensland University of Technology.