The International Cytokine and Interferon Society (ICIS)* has awarded NHMRC/RG Menzies Fellow Dr Si Ming Man, with the Milstein Young Investigator Award for 2016.
The Award is given to scientists who have made an impact on interferon and cytokine research early in their careers (and who have received a PhD or MD within the previous 10 years).
Si Ming was presented with his award at the annual ICIS meeting in San Francisco.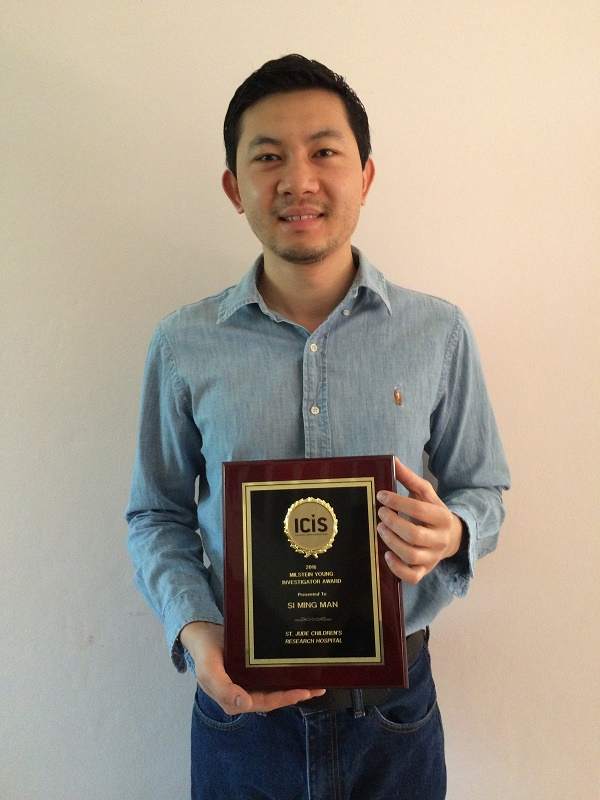 Si Ming's list of awards is growing, having been presented with a Trainee Achievement Award by the American Association of Immunologists earlier in the year and being recognised by the NHMRC with the Frank Fenner Early Career Research Fellowship last year.
Si Ming is in his second year of a postdoctoral fellowship at St Jude Children's Research Hospital in Memphis, Tennessee. He will be coming back to Australia in January and complete the second half of his fellowship with the Australian National University in its Department of Immunology and Infectious Disease.
His research with the team at St Jude includes findings that boosting the activity of a protective gene and giving patients 'good' gut bacteria could help prevent or slow the progression of colorectal cancer, and research on activating the immune system to kill the bacterium associated with deadly infectious diseases.
*ICIS is a non-profit organization of over 600 scientists devoted to research in the fields of cytokine, interferon and chemokine cell biology, molecular biology, biochemistry and the clinical use of these biological response modifiers.