From coffee with an ex-PM, to dinner at the House of Lords and a deep dive into legal theory at Oxford, it's a cracking pace of life for a Menzies Scholar
in the UK – and Nathan Van Wees is loving it.
Nathan was awarded the 2017 Menzies Scholarship in Law and is completing a BCL at Oxford University.
"It is difficult to distil two months in Oxford into a short summary," Nathan said.
"Academically, I have learnt a significant amount already. I am concentrating here on legal theory, which is not something I have previously had the opportunity
to focus on in Australia. This has taught me a great deal about how law works as a system but, perhaps more importantly, developed my critical thinking
more than the doctrinal subjects which I have studied before.
"These courses also lend themselves to comparative perspectives, and the classroom discussions are made more interesting by the fact that there are students
from 40 different nationalities on the course this year."
Outside of study, Nathan has enjoyed ticking off some of the Oxbridge cliches – punting on the river, Harry Potter-style formal dinners and sampling the
countless old pubs.
"The bookshops here are a particular highlight for me, and you never know who you will run into there.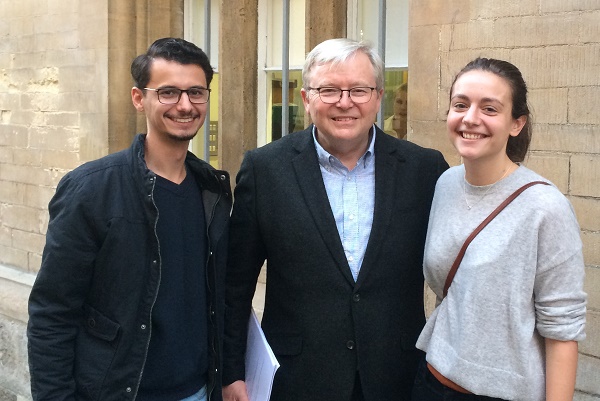 "Coming out of Blackwell's Bookshop one Sunday afternoon, none other than Kevin Rudd was walking in. Along with an Australian and Irish friend, we
spent the next 45 minutes in a cafe discussing China's role in the world with the former Prime Minister (he paid for the coffees)."
Nathan recently joined other Menzies Scholars, including his 2017 peers, Lyndon Goddard (International Law) and Olsen Garland (Engineering), at the final
House of Lords dinner hosted by the Britain-Australia Society for Menzies Scholars.
"We were grateful to be invited by Lord Broers to a dinner at the House of Lords. This gave us an opportunity to meet previous scholars in our fields and
some of the people from the Britain-Australia Society, who have always supported the Menzies Scholars in the UK on behalf of the Foundation. Dr Ian
Henderson (Director of the Menzies Centre for Australian Studies at King's College, London) gave a passionate speech about the role of education and
academic work in contemporary society, we toasted the Queen (and Australia!) and enjoyed a wonderful meal.
"These opportunities make me reflect on how lucky I am to be in such a place, and how grateful I am to the Menzies Foundation for making it all possible.
I am looking forward to another six months of fun and study," Nathan said.
Nathan is pictured with former PM, Kevin Rudd and fellow Australian BCL student, Madeleine Salinger.