Taking the big jump from feeling safe, supported and surrounded by family in a small town in Queensland to studying at the University of Melbourne, is
an experience that will guide the mentoring efforts of the 2018 Menzies Indigenous Mentoring Fellow.
Proud Mamu Waribarra woman from Tully in Far North Queensland, Serena Rae Thompson, has just been awarded the Menzies Fellowship, to spend 12 months as
the mentor to the Year 7 students at the Melbourne Indigenous Transition School (MITS).
The 22 male and female students at MITS hail from remote and regional communities and come to Melbourne to study for a year and live in a home-style safe
environment at MITS. The year at MITS is designed to enable a supported transition to city life and high school the following year.
Serena says her first year away from home – studying a Bachelor of Arts at the University of Melbourne – was the hardest, because it took her away from
her large family and out of her comfort zone.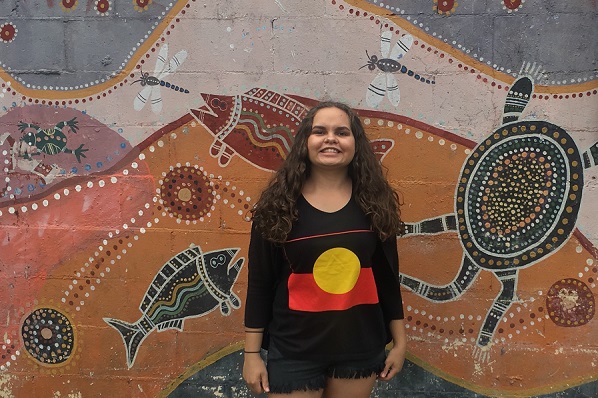 "When you leave your family behind it takes a while to build a network, but it's also very rewarding to see what you can achieve and the network I've
now built is based on similar beliefs and motivations to live a good life.
"I'm very inspired to see what I can bring to the little community at MITS. I have worked with young people before and it's so rewarding because each day
is different; it's never the same. I'm definitely looking forward to seeing what the kids need from me and I know they will also challenge me and give
me the opportunity to grow."
Serena is keen to push herself and says leadership is an important role in Aboriginal communities. She says leadership is also a chance for people to learn
more about themselves.
"What was most important to me (when I moved) was coming to terms with what my Aboriginality means outside of my family. Where do I fit? How can I find
support? Meeting other mob and engaging in lots of new aspects of life, gave me a better understanding of what it means to be an Aboriginal woman."
Now she is keen to see how she can share some of this knowledge with the next generation.
"When I walked into MITS the other week to meet the students, the energy was alive; there's a lot going on and I'm excited to be part of it," Serena said.
Serena is majoring in creative writing and has a minor in Australian Indigenous Studies as part of her degree at the University of Melbourne. She has worked
as a facilitator at the Cathy Freeman Foundation, was a volunteer at the Indigenous University Games in Geelong this year and is the President of the
Medley Hall Student Club.
The Menzies Foundation funded the first Sir Robert Menzies Indigenous Mentoring Fellowship in 2017 and the inaugural Fellow is Michelle Kerrin. The Fellowship enables one young Indigenous leader to provide essential mentoring, peer support,
and cultural connection to MITS students on a regular basis throughout the school year, whilst undertaking their own study. Serena will take up the
role in early 2018.
Speaking at the MITS Graduation on Tuesday night, Michelle said the year as a mentor to the Class of 2017 had been the best year of her life. So good in
fact that she will be continuing with MITS next year as a transition coordinator and helping out at the boarding house. Michelle will also graduate
from the University of Melbourne this week.
The Menzies Indigenous Mentoring Fellowship is valued at $20,000 and also enables the Fellow to further develop their own leadership through education
and governance training. At the same time, they will support the growth of other future leaders – MITS students – through shared pathways and experiences,
positive role modelling and the embrace and support of Indigenous culture and identity.