The Sri Lankan cricket team has taken out the 2017 Prime Minister's XI T20 game at Manuka Oval in Canberra.
A lover of cricket, Sir Robert Menzies, created the Prime Minister's XI concept in 1951, selecting his own team to play against visiting international squads. To mark the history of the game, the Menzies Foundation continues to provide the trophy and man of the match medallion and maintains a strong connection with the game.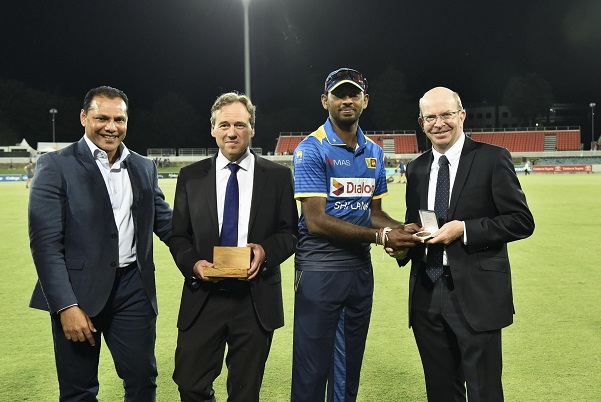 Menzies Foundation Chair, Professor Simon Maddocks, presented the man of the match award to Vikum Sanjaya for his 3/26 off four overs, while Minister for Health, Greg Hunt, presented the trophy to stand-in Sri Lankan captain, Upul Tharanga.
Sri Lanka defeated the seriously injury-depleted Australian Prime Minister's team, led by prolific batsman Adam Voges, who announced the game would be his last international match. Sri Lanka passed Australia's total of 169 in the 18th over.
Australian Prime Minister, Malcolm Turnbull, and Sri Lankan Prime Minister, Runil Wickremesinghe, attended the game and the Cricket Australia dinner, with a reception at Parliament House the night before all forming part of the celebrations to commemorate the 70th anniversary of diplomatic relations between the two countries.
For more details and highlights of the Prime Minister's XI, see Cricket Australia's coverage.
Next year the English Cricket Team will take part in the Prime Minister's XI.